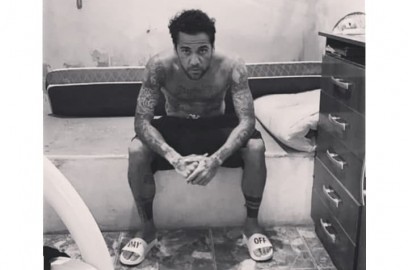 Each of you is looking for a way to achieve great things in football.
However, you don't always have that much motivation to work hard every day.
There are times when, instead of going to training, you prefer to stay home and just do nothing.
You know that you should always give more than 100 percent of yourself during each training, both in team and individual, but you do not do it!
The same is true during a match where there are times when you let go for various reasons such as the score is already decided, the match is not going your way or you lack energy.
How to deal with it to always work to the max both in the match and during training from start to finish?
Dani Alves, a former FC Barcelona, ​​Sevilla, PSG and Juventus player who is famous for always giving maximum possibilities from start to finish, told about what he does to never let up for even a minute and not lose motivation.
Alves said he closes his eyes in front of the mirror before every game or training session and recalls his life when he was 10, had to get up at 5am and work a few hours growing vegetables before going to school. He mentioned that he had to sleep on a concrete bed as well because parents didn't have the money for a mattress.
He also recalls how his mother cried because there was not enough money for basic necessities for everyday life
He then also remembers running a few kilometers after school and farm work in the late afternoon to get to training.
He said that when he remembers it all, he awakens such an amazing motivation to work that he absolutely never lets go!
You too can use this method!
Each of you struggles in life with difficulties and obstacles, I assure you that if you make visualizations before training or a match, in which you will remember all the difficulties that you and your loved ones had to deal with, and then you will understand that thanks to football you can change it you will never miss a single second of a match or training session and you will always do everything 100 percent!