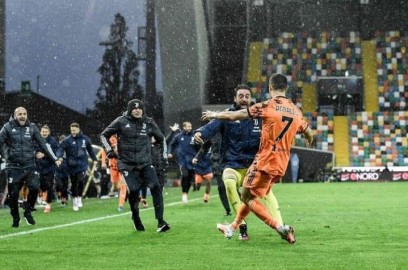 Most footballers wonder what to do to stand out from the crowd and get noticed by talent scouts?
What skills to show?
What weak elements in skills to improve?
One aspect that will get you 100 percent attention scouts is taking the burden of the game on yourself and trying to reverse the outcome of matches when the outcome is not favorable and the team is not getting along.
In such moments scouts catch mental leaders and players who can take the burden of the game on themselves and change the fate of the game.
In order for you to be able to cope with the burden of being a leader, you need not only a strong mentality but also a charisma to convince the rest of the team to do so, as well as physical and football preparation so that in the last parts of the match you will not run out of speed, strength and technical skills.
No matter how badly the game turns out, never let your mind become overwhelmed by resignation.
To better understand what situation I mean, take a look at yesterday's game between Juventus and Udinese.
Juventus did not do well in this game from the start, and the presure for the club's players was enormous as in the event of a defeat it was almost certain that they would not qualify for the Champions League next season.
Juve was losing until 83 minutes, but then the real leader, which is undoubtedly Cristiano Ronaldo, took the responsibility and first used a penalty kick in 83 minutes, giving a draw, and then a minute before the end he scored a winning goal!
Note that once again we give CR7 as the model, but it is impossible not to follow one of the greatest footballers in the history of football!
If you dream about achieving great goals, first of all do hard work every day, both in club and individual training, and then each time show your maximum skills in matches!
There is no other way!
If you need support in that, apart from club training, you can also train individually, write to us and we will send you video training kits.
If you are looking for motivation and mental development, check our news tab on the portal FTT and our Facebook page every day.
If you are looking for a chance to show your skills to people working in clubs or management agencies around the world, to have a chance to receive offers, be sure to register for free on our portal and add videos of your daily trainings and matches there so that scouts can assess your skills and talent .
Training sessions and matches can be recorded with a spartphone, but the video must be long enough and must be added regularly to be able to assess the player's level and progress.
If you need training support after registering to the portal and adding a few videos showing what you can do, contact us by writing a private message on our Facebook page and we will do everything to help if you are a real, talented and hard worker player.