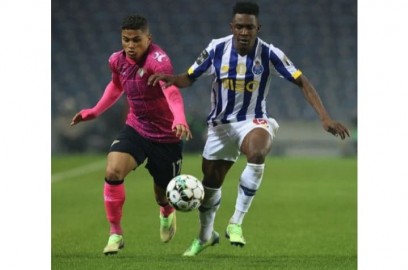 Today, the next matches of the 1/8 finals of the Champions League will be played. Playing in this competition is a big dream for all footballers.
However, many of you do not even have the courage to give your absolute best in training and even try to get there because you lack confidence and perseverance.
However, I will prove to you once again that nothing is impossible if you are ready to risk so much to persistently and hard to work every day despite the lack of guarantee of success!
Today in the FC Porto vs Juventus match there will probably be a player who if he told someone 5 years ago that he would play at the level of the champions league would be laughed at and nobody would believe him!
Zaidu Sanusi is a left-back of FC Porto.
Five years ago, an unknown boy full of dreams played football in little known clubs in Nigeria with absolutely no prospects for a career.
He was not considered a great talent even in Nigeria.
He was just one of the many boys who dreamed of getting out of poverty and becoming a professional footballer.
He trained very hard all the time.
He knew that as a side defender he had to be very quick, physically well prepared and win many duels as well as perfect crosses.
In 2016, he risked absolutely everything and as
The 19-year-old went to Portugal.
For a long time he couldn't find a club, but he trained hard every day whenever he could.
In 2016, he signed a semi-professional contract with the Gil Vicente team.
In the beginning, he only trained in this club because he had no chance of playing regularly.
For 3 years he trained very hard in this club for very little money.
In 2019, he moved to the Santa Clara club and there it turned out that hard and persistent work pays off because after a year of regular play, he moved to FC Porto, one of the best clubs in Portugal.
Today this boy, who until recently was unknown to anyone and no one believed in him except himself, has a chance to play in the Champions League again.
What are your thoughts reading this article now?
That you can do that too?
Of course you can!
BUT only if today you start hard traning and to develop your skills and look for your chances absolutely everywhere, as Zaidu did!
Ask yourself how long have you been training today and is it enough?
Also think about whether it is time to finally record a video of matches and training and then add it to the portal so that someone will notice you?
Think if it is not worth the risk and eg. After a year of daily training, go out into the world and take part in teams to try to give yourself a chance?
Zaidu and many other players showed that anything is possible!
Don't waste your time, get to work!
If you start recording a video and adding to the portal, write to us on Facebook and we will try to help you.