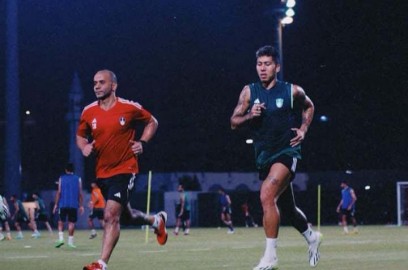 Nowadays, football has become a field of life in which a huge amount of money has appeared.
As a result, players are better prepared in all respects. All because they hope that the best clubs will pay attention to them and offer them high salaries and the opportunity to play at the highest level.
Despite so much competition, there are specific skill profiles of players in certain positions for whom there will always be a place in a good club
.Therefore, if you ever want to get a chance to play at a high level, you must adapt to the requirements of the clubs currently.
Below we present a short description profile of the players who are most wanted by the clubs.
Analyze them and consider what elements are missing from your skills to meet the demands of modern football.
Consult with experienced people to assess your skills and give you some advice on what you need to work on and what is your greatest asset.
1) AN EFFECTIVE ATTACKER, WHICH CAN NOT ONLY FINISH THE TEAM'S ACTION, BUT ALSO CREATE IT.
Until recently, as a striker, it was enough to stand in the penalty area and wait for the ball to reach you and you would be able to score.
Currently, the clubs are looking for a striker who not only finishes the action, but also can create it himself by dribbling one or more opponents or winning a duel runing.
In addition, when needed, the attacker is also required to fight defensively.
To be such a striker, work on speed, dribbling, strength and physical preparation.
2 ) A DYNAMIC WINGER WHO CAN SUCCESSFULLY WIN DUELS.
Most teams base their attacking game on the wings and in this zone they want to have a player who can win the duel with his speed, dribbling and creativity in order to give the team an advantage.
In order for you to be able to stand out in this position, you need to work on aspects such as speed, dribbling, perfect crossings, and looking for empty positions.
3) A SIDE DEFENDER WITH THE ABILITY TO PLAY IN THE OFFENSIVE
Players in this position, especially left-footed players, who can not only effectively play defense, but also successfully connect to the action in ovensive and make an advantage in the side zone, are increasingly valued at many millions, as are the attackers and players who create the game.
To become such a player, in addition to developing the game of defense, you need to start working hard at efficiency and speed so that you can withstand the physical loads at the highest intensity.
Also, similar to a winger: dribbling and crosses.
Good examples of players who made a career very quickly in this position is Nigerian Zaidu Sanusi, who recently played in the 3rd league in Portugal and today is one of the best in the Champions League in this position.
Likewise, Canadian Davies, who plays for Bayern and two years ago, was virtually unknown to anyone.
4) THE VERSATILE MIDFIELDER CENTER
Until recently, central midfielders were divided into defensive and offensive.
Today, if you want to play at a high level, no matter if you play on position 6, 8 or 10, you must be as good at creating offensive actions as you are playing in defense and taking the ball from your opponent.
For this purpose, if you are a defensive midfielder, do not avoid playing the ball and do not limit yourself only to fighting in defense and passing it to other players.
Develop ball control, creative passing or work on dribbling to be able to win duels.
However, if you are a midfielder who is more responsible for the offensive, do not forget about developing and improving the strength of physical training or bravery on the pitch.
Regardless of where you play at the moment, whether it is amateur or professional level, if you work hard to develop and pay attention to the important aspects, you have the chance to achieve a lot in football.
For a chance to get professional clubs and managerial agencies to pay attention to you, register on the portal and add training videos and matches every day to show your skills.
If you want to develop your skills, start training individually.
If you find the above advice valuable to you, please like it and share it.
If you currently have a problem with receiving offers, write in the comment which point will help you the most in your development.
Also, remember that you never know when you might be being watched by club scouts, so always be 100 percent involved.
Roberto Firmino was spotted by the TSG 1899 Hoffenheim scout while the scout came to watch completely different players and that's how his career began.
Work hard and never quit!