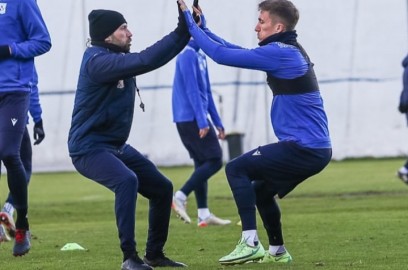 December is the moment most footballers long for, because it is the month when most clubs organize matches and test camps to find as many high-quality players as possible to strengthen the team.
Thanks to such events, the ambitious footballers from lower levels can get a chance to enter the professional level.
Currently, our employees receive many invitations to tests for the most talented and hard-working footballers using the portal every day.
Thus, the players are wondering what to do to present themselves in the tests and take advantage of their chances.
Therefore, to help you best prepare for the upcoming challenges, we have a few tips on what you should pay attention to in order to be highly rated by scouts.
1) BALL CONTROL
An absolutely crucial aspect for a footballer.
Every scout, coach, agent or sporting director always watches first as the player controls the ball.
If this item in the player is not of a high level, the player is immediately crossed out!
So if you don't know where to start your transformation from amateur to professional then you should definitely start improving your ball control.
2) WINNING DUELS 1vs1
Regardless of what position you play, the key statistic is always the ability to win duels in offense and defense.
To do this, you need to work out at least 2 feints that will allow you to easily avoid the opponent, as well as speed and tactical wisdom in the positioning.
Winning duels is one of the most visible aspects of the game, so don't be afraid to do it, but it's important to do it responsibly.
When you lose the duel, always try to recover the ball to the end.
3) PHYSICAL AND SPEED PREPARATION
We have already emphasized many times in our articles how important this element is at the professional level.
If your physical and speed preparation is not perfect, even if all other skills are appropriate, you will not be able to cope with the intensity at this level.
However, if you are ready for hard training, this is an element that you can improve without any problems!
4) CONCENTRATION
Remember that the scout's opinion is issued for the entire test period, so be fully concentrated all the time.
Regardless of whether your game was very good from the beginning or if you entered the tests badly, stay focused and give a hundred percent.
Be positive all the time and focus only on the pitch and avoid distractions.
5) MAKE A VISUALIZATION AND HAVE A PLAN OF YOUR GAME.
In order to show your best side, you need to create a clear plan in your mind of how you want to play, what aspects of your game you want to present and how you want to stand out.
An effective method to prepare for all of this is visualization.
About a week before the tests match, each evening you should find yourself in a quiet and peaceful place where you can fully concentrate for about half
hours and imagine a test match in the most positive way, where you play perfectly and show one hundred percent your skills.
In this way, you will build a positive attitude in your mind, feel fully prepared and eliminate stress.
6) 100% COMBAT AND COMMITMENT
This is an obvious element, but many players very often adapt to the rest of the team depending on the result, when the team is losing or leading, they just give up and don't play to the end.
You will notice that less ambitious players only fight when things are going well.
They do not take responsibility for the result on themselves and cannot be a leader.
This is one of the key mental aspects that scouts pay attention to!
If this article has convinced you that it is worth starting to improve certain elements and give yourself a chance for a career, contact us and we will try to help you.
7) SHOW YOUR HALLMARK
We have written many times in our articles that a very effective element that allows a footballer to stand out is his hallmark
Speaking of hallmark, I mean one or two aspects of skill which are the strengths of the player which he has perfected and you can see at first glance that this is his main asset.
A good example of a hallmark is the aspect of perfect crosses and free kicks that were David Beckham's hallmark.
If you train such an element at you, it will be your significant advantage over the other players.
Take the above advice into account, and if you still have time to test, start using them in training as soon as possible.
For more tips, add videos to the portal and contact us via Facebook in private messages.
In addition, we would like to inform you that soon we will contact the best and most hardworking users of the portal who have aroused the interest of clubs from several countries to send them invitations for tests, so that you have a chance to join professional clubs in this transfer window.
If you found the article valuable, please leave a like and share it as it is very important to us.
Write in the comment which point is in your opinion the most important for the tests to be successful?