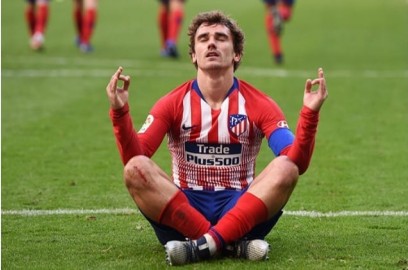 Many of you ask us with a problem, what to do when, after a few days of training, you lose your motivation and patience, and the environment says that your hard work is pointless?

This is a problem that affects not only athletes at the beginning of their path, but also very experienced and titled players.
All of the above doubts stem from a lack of self-confidence, which you have to work on as systematically and hard as you do on your soccer skills.
Visualization is an ideal and proven solution to this problem, which, when used regularly, will help you persevere in your daily hard work and gain self-confidence, thanks to which you will be able to demonstrate your full skills and talent in key moments, such as important matches or tests.
Moreover, properly applied visualization can be a way of predicting match events.
Therefore, if you prepare well for training, nothing will surprise you.
What is a visualization and how to use it?
It is nothing more than imagining an important event, an important match that awaits us.
Create a match in your own imagination with the greatest possible accuracy.
We have to close our eyes and try to imagine our success. This is how we would like to play and what skills to show and how we win.
Watching the best players in the world before training and imagining that you can complete the pieces you will work on in training as well as the football stars will help you learn those skills.
For example, if you are going to practice dribbling on a given day it is wise to look at the best dribblers in the world and then imagine yourself in their shoes that you can dribble as high as they are.
All because your subconscious mind is unable to distinguish imagination from reality.
This way you can deal with stress and show your best side in the most important matches!
You will do much better in training than before.
Of course, the effects won't show up the first time.
It requires you to work regularly for about 30 days with your mind through various visualizations of yourself as a winner and yourself who have already mastered your chosen dribble, shot, pass, first touch or whatever you want.
Antoine Griezmann closes his eyes the day before each match and on match day. Half an hour after waking up, he imagines himself shooting, dribbling or fighting for the ball, finally seeing himself as the winner of the match!
Connor McGregor said, "If you see your success in your imagination, don't be afraid to talk about it openly because if you work hard every day, there will eventually come a time when your imagination becomes real."
If your goal is success and you want to do whatever it takes to achieve it, you absolutely need to start using visualization!
If you have any questions or concerns, or need other help with your career development, please write us a private message on Facebook and we will do our best to help.