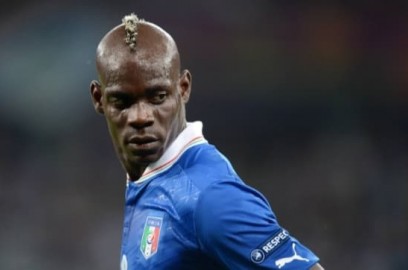 Last weekend, Mario Balotelli reminded the football world of himself because he scored 5 goals in the last round of the Turkish league!
This is perhaps the greatest talent that has been wasted in recent years.
Jose Mourinho said if Mario had used at least half of his talent, they would be at the level of Messi and Cristiano Ronaldo.
Considering what mistakes were Balotelli and other players who did not reach their maximum, what mistakes can YOU dont make?
1) NEVER LESS TRAINING!
Commitment to training in absolutely every exercise and a constant desire to develop is the foundation of success!
Each series of training, even the most unpleasant exercise, perform with full commitment
If you meet this condition, you have the right to dream of reaching the top!
Mario has such a great talent that even with minimal commitment he has achieved a lot!
However, Balotelli is an outstanding individual, performing like one in a million!
You want to have a chance, give 100 percent, and if not, just let it go because it's a waste of time!
2) THE PARTY LIFESTYLE WILL NEVER TAKE YOU TO THE TOP!
Few people believe that being a footballer is a string of sacrifices.
Everyone thinks it's just a rich life plus a few hours of training and a match.
One of the most important elements of life that a young footballer must give up almost one hundred percent is partying with friends at a young age!
Partying is another aspect that ruined Mario's career.
Lack of sleep and alcohol are the main factors contributing to the fall of dreams.
A person at a young age has a natural need for entertainment, and for most people it is not a problem even for moderate amounts of athletes.
However, when party become a priority then there is a problem that is difficult to control!
3) THINKING THAT EVERYTHING WILL HAPPEN WITHOUT YOUR PARTICIPATION
Many players think that if someone once told them that they have talent, the president of one of the largest clubs in the world will appear in a moment and make them an offer!
This will be the case for perhaps one percent of the world's most talented footballers!
The rest, if they want to achieve something more than an amateur game, must do everything possible to develop!
Train more than everyone else, look for opportunities to show your skills absolutely everywhere, show videos on the Internet, take part in tests, do everything you can because nothing will happen automatically!
4) NO LEARN FROM MISTAKES
Many players, especially young players, simply ignore it when they hear criticism from the coach
Never take constructive criticism as an attack on you.
Take it as a signal of what you need to work on.
If something is your weakness just expand it!
5) WRONG ADVISORS
The key to career development is to choose good advisers
If you want to find someone who will help you with individual training, make sure that this person has experience and knows how to do it!
By training in the wrong way, you can do more damage than progress
The same is true for agents.
Make sure that the agent cares about the development of your career in the first place and that his next priorities are earnings.
The same is true for you.
Remember that your only motivation in football should not be money. because if you do then you will never get them!
Thank you and we are extremely grateful for every share, like and comment.
In this way, each of you is the co-creators of the portal and its user at the same time!
It is mainly thanks to the most active users that the portal is developing so fast and can support talented footballers more and more!