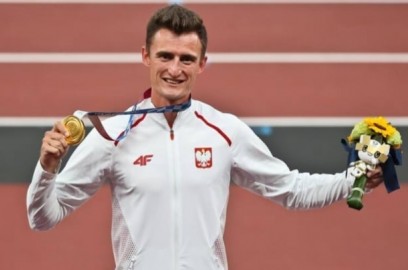 If you feel that you can't achieve anything meaningful in sports without the support of others, you probably don't know the story of David Tomala!
Dawid Tomala is a Polish walker who has always dreamed of taking part in the Olympic Games.
Dawid has never ranked high in competitions such as the World or European Championships, and the Olympic Games were only a dream until recently.
Usually it took about 40th place.
As a result, he lacked sponsors, and in Poland, absolutely no one considered him a future Olympian!
Therefore, in order to cover the costs of trips to competitions, training and everyday life, apart from training, he had to work hard as a construction worker and could train only after work.
However, his dream and determination to perform at the Olympics were so great that the difficulties could not stop him!
Dawid is no longer a young WALKER, because he is 30 years old.
To qualify for the Games, David had to meet a certain minimum time limit.
He tried to achieve this for two years without success.
He achieved his goal only at the last moment, about 2 months before the Olympics!
When he did, he had to work even harder to cover some of the travel expenses, as not everything was provided by the Polish Olympic Committee.
When Tomala reached Tokyo, he knew that his dream would only come true when he gave one hundred percent of the possibilities in the 50 km race and reached the finish line!
Seeing rivals supported by a team of specialists and dozens of sponsors, it was absolutely difficult for him to keep faith in the ultimate success!
However, after a moment's thought, he realized that in the race it all didn't matter and he just had to give his best!
And he did just that!
He gave his absolute absolute maximum, not remembering the previous difficulties.
As it turned out, Dawid Tomala, an athlete from Poland, who had to work as a Builder to cover the costs of training and everyday life, who by the age of 30, did not win anything important, became the OLYMPIC CHAMPION!
Despite the fact that no one but him believed in him and no one but his immediate family supported him, he achieved the greatest possible sports success, because he won the OLYMPIC GOLD MEDAL!
Sports walk wo are a completely different discipline than football, but Tomala's example shows that if you believe in yourself, dream big, don't complain about the lack of opportunities, but work hard, anything is possible!
If you ever doubt that you will fail to become a professional footballer, remember this story first, then just go to practice and give it your all.
Finally, ask yourself, have I done everything in training and outside of training today to get even a step closer to my goal?
THE ONLY WHAT REALLY LIMITS YOU TO ACHIEVING YOUR GOAL IS YOUR MINDSET
Are you looking for a chance to show yourself to the world?
register on the portal and add training videos and matches every day, and if you have sufficient skills and patience, the offers will appear!
Source of the photo : Paweł Relikowski Polska Press