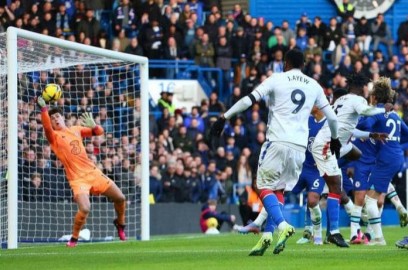 One of the major problems that a footballer has to deal with during matches and training are his mistakes.
Many players, when at the beginning of a match or training, make one mistake in controlling the ball, failing to take advantage of a good goal situation or make a wrong intervention in defense, then they cannot completely throw this situation out of their mind and it usually ends with further mistakes because their self-confidence is systematically decreasing.
.Sometimes it is the case that the lack of confidence and frustration caused by one mistake builds up and carries over to subsequent matches, which creates a blockage and tension in the player's mind before making further such moves.
Usually, when a player does not discover that the problem is in his mind and does not learn to respond adequately to mistakes that happen to everyone, it can be a cause of destruction of the career.
HOW SHOULD YOU REACT TO MISTAKES DURING A TRAINING OR MATCH, SO THAT THEY DO NOT HAVE A NEGATIVE EFFECT ON YOUR CAREER?
A) MISTAKES DURING THE MATCH
If you make a mistake during a match, get it out of your mind immediately!
Try to think about the best match of your soccer career.
Take a deep breath
and focus on the next minutes of the match!
Avoid error analysis while playing!
After the game on the next day, you should calmly analyze the error and if you come to the conclusion that this element may be your weak point, talk to the coach and start training individually to correct it!
Decide in your mind that you are starting work today so that this weakness becomes your greatest asset!
Instead of unloading negative emotions, treat the mistake as an opportunity and a hint of what you can do to become an even better player than at present!
2) ERRORS DURING TRAINING.
It is often the case that the player does not do an exercise or game element best.
For this reason, the player feels discomfort during training and avoids these exercises or does not perform them with full commitment.
After some time, this weak point makes itself felt on the pitch and the player, for some reason, will not be as effective as he could if this difficult element had been refined.
The correct response to such a situation, if any element is troublesome, is for the player to take immediate individual repair, train individually instead of avoiding it!
Then, when this element is trained during club training, instead of avoiding it, he should consciously repeatedly try to do it perfectly so as to develop automatism in himself!
Don't take the error as a reason for an impulsive reaction, but as a sign that will show you the direction of what you should be working on to get one level up!
A good example of how to react to mistakes and failures is Kepa Arrizabalaga, who after his transfer to Chelsea, when the London club lost over £ 80 million for him, constantly made mistakes and could not cope with the pressure and great expectations!
Kepa was very impulsive at first and couldn't cope with the mistakes he was making.
However, after fellow goalkeeper Edouard Mendy joined to Chelsea, Kepa accepted that he had become a reserve and focused on training and mental development.
After some time, when Kepa was only a substitute, it was time to replace Mendy, who went to the African Nations Cup.
Kepa played amazing in the last matches!
He was a Chelsea hero many times!
If you want to be successful, you must learn to respond to failures and mistakes.
Follow the tips in this article and we guarantee that it will be much easier for you to develop!
If you think the article is valuable, you can share and like the article.