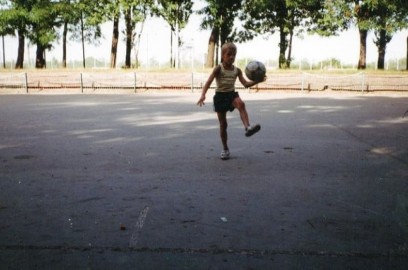 Lukas Podolski, one of the best scorers in the history of the German national team, signed a contract with Górnik Zabrze some time ago.
Lukas is of Polish origin and has always said that at the end of his career he would like to play for the team he supported as a child.
In one of the interviews, after returning to Poland, he was asked what had the greatest impact on building such high skills and how he trained.
Lukas replied that the key was not the club training because, according to him, it was just an addition.
The most important influence on his development was the fact that from the age of 8, he spent up to 4 hours every day after school on the local playground, playing match with friends and training various elements of the game all the time.
Lukas, apart from the matches he played he trained individually, kept perfecting the same elements all the time, which were:
- SHOOTING STRENGTH AND PRECISION
- BALL CONTROL
-FIRST TOUCH
- BALL MASTERY
- FAST PLAY
- PASSING
- EYES OVER THE BALL
You must be aware that at that time, when there was no Internet, Podolski wanted to get exercise sets that could help him develop a given element, his dad talked with trainers, looked in books and took notes to use it in individual training.
Notice how big of an advantage you currently have.
Regardless of where you live, you have access to an unlimited number of training sets on the Internet.
For you to develop, you only need determination and persistence in training, the ball and a fragment of the pitch!
In addition, using the portal, you can present your skills to talent hunters from around the world every day!
Will you take it or waste the chance you have?
If you need training kits that will help you improve the above-mentioned aspects and you are ready to work hard on them, write to us a private message on Facebook and we will help you.
Source of Lukas Podolski's Instagram photo