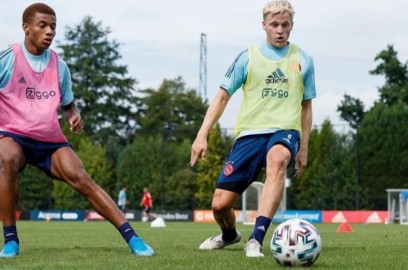 You are probably reading this article for its title because you thought to yourself how it is possible that habits can earn you more than a million dollars.
Now think how long does it take a footballer who doesn't necessarily play in the top leagues in the world to earn a million dollars?
A year maybe two?
Do you already understand why we have titled this article in this way?
If you are a talented footballer looking for a chance to develop
and you will analyze this article and then you will be able to introduce the following habits into your life, it may turn out that a million will become not only a dream but also a reality for you.
Many of you are wondering, how is it possible that the best footballers in the world, despite so many successes, still have the energy to work incredibly hard and are still hungry for success?
HABITS are something that can turn you from an amateur to a professional.
You need about a month of consistent repetition to develop a habit
You can consciously or unconsciously develop habits.
Your unconscious habits are mainly influenced by the environment you are in.
For example, if you play with amateurs who are not professional soccer players, you will unconsciously adopt some of their behavior.
On the surface, these behaviors may seem irrelevant, however, over a long period of time, it is these details that determine success or failure.
However, if you surround yourself with professionals, your habits will unknowingly shift towards professionalism.
However, if you want to consciously change the habits of an amateur into a professional one, you will have to persistently force yourself to follow them and be consistent for about a month until the new habits replace the old ones.
If your goal is to become a professional footballer, today we have 6 habits for you, which, if you develop them, will help you reach your goal.
1) MAKE THE FOOTBALL ONE OF THE MOST IMPORTANT ASPECTS OF YOUR HIERARCHY.

It is not uncommon for footballers to have talent and want to be professional footballers, but their actions do not deviate significantly from what a future professional footballer should do, because they usually put other things first, such as parties with friends, laziness instead of training, eating junk food instead of eating healthy, waste time on social media, instead of spending time adding another training or match video to our portal to promote yourself.

2) TRAIN INDIVIDUALLY
Regardless of whether you are in the famous soccer academy or in the amateur team, if you want to reach the top, make a habit of daily individual training, because there is always something to be called your weak point and great asset and if you focus on perfecting these aspects in individual training, you will make much more progress and have a chance to reach an amazing level.
A great example of how it works is Cristiano Ronaldo, who has always played for very professional teams at the highest level, but hasn't given up on individual training so far.
3) TAKE CARE OF RIGHT DIET
More and more often it is heard that the diet that is right for a footballer is the key element in getting in good shape.
Robert Lewandowski says that he o wes a lot to the diet his wife created for him.
Probably thanks to this, despite the fact that Lewy is already 32 years old, for many years he is able to play without injuries at the highest level.
4) ALWAYS BE 100 PERCENT CONCENTRATED
An important difference between amateurs and professionals is the approach to training and matches!
Professional players always approach each training and match with maximum concentration and commitment, so that everything is done as well as possible.
No matter what kind of exercises are in training or what match they are playing.
Remember about 100 percent commitment.
Amateurs usually approach training and matches relaxed.
However, if your goal is to be a professional, take care of your full concentration.
5) TAKE CARE OF THE RIGHT INTENSITY OF TRAININGS IN ORDER TO SHOW A HUNDRED PERCENTAGE OF SKILLS ALREADY UNDER THE PRESSURE OF THE OPPONENT
Many times the player is great at training and amateur matches, but later during matches at a professional level, he does not do so well, because the pressure does not allow him to show his full skills!
An important element is putting time pressure on yourself during training and trying to do everything as you would during championship matches!
All this so that it did not turn out that the intensity of training did not prepare the player for the match reality.
6) NEVER GIVE UP!
The path from amateur play to professional contracts and top-level playing skills is usually very long and you will have to learn to deal with failures!
Do you think that it is enough to add a few matches videos and a few training videos to the portal and someone will find you right away?
If you think so, you are wrong because it is a process that requires consistent hard work and you shouldn't give up after adding a few videos because you never know which movie will convince the scout or agency that will offer you a contract.
The same goes for testing and even trying to improve your skills in some aspect!
Learn to pursue your goal and never give up!
It should always be a priority for you to be a better player every day.
Don't waste time waiting idly, work and develop, and opportunities will appear when you least expect it.