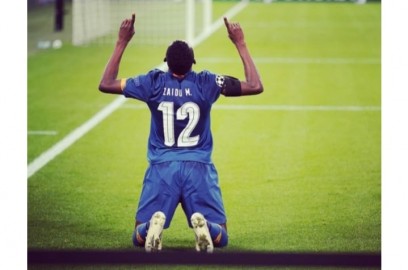 The first most important and fundamental thing you need to understand is that for an agency or club it is always crucial how high your skills are and whether you are able to show these skills at a given level in a weekly match.
It doesn't really matter what club you learned at, what country you are from, whether you are rich or poor.
Remember that professional football is primarily a business for an agency or a club, and what matters in the end is whether your skills can bring the club or agency profit!
And for you this is very good news because when you raise your skills really high, sooner or later someone will give you a chance!
We have 6 tips for you today that will help you promote yourself if your skills are enough!
1) YOU HAVE TO GIVE YOURSELF A CHANCE!
If your goal is to play at a professional level, you have to start working in that direction!
I mean nothing will happen by itself, you have to start doing whatever it takes to give yourself a chance.
- You will not become a professional by training like an amateur only three times a week, so train even twice a day.
Of course, all in accordance with common sense so as not to destroy the body.
- Post videos showing your skills on the internet wherever possible to promote yourself this way as well!
- Take regular tests match to appear directly in front of people in the world of football.
Don't look for excuses that you don't have money, because if you show high skills and persistence by adding videos to the portal, we are able to finance these tests!
2) ALWAYS BE READY FOR A CHANCE!
That is why we encourage you to train every day without exception, because you never know when your chance may appear.
Make daily training and improvement of your skills an obsession and when you are ready your chance will come!
3) CREATE THE BEST INDIVIDUAL STATS POSSIBLE!
There is something in every position for which the player is responsible and the coach demands it from him!
The goalkeeper is responsible for not conceding goals, for the striker the most important thing is how many goals he scores, the midfielder is accounted for assists, goals and won duels, the defender similarly won duels and did not concede goals.
If your stats are at a really high level, I am convinced that no matter what league you play in, many clubs will want to give you a chance, so focus on it!
4) CONSTANTLY WORK ON TO BE AN EVEN BETTER PLAYER!
Never compare yourself with the rest of the team.
You always have to want to be even better.
Keep learning and look for opportunities for development!
Fine-tune all the key aspects of soccer to the absolute perfection!
Physical and speed preparation, Mental, ball control, football technique, coordination are elements in which you can always be better, so even if you have the impression that they are at a high level, you absolutely cannot let go!
5) CREATE YOUR HALLMARK
To stand out, choose one aspect of your skills that you will bring to perfection so that in key moments for the team it can decide about the victory!
A good example in this case is David Beckham, who took free kicks with such precision that most of such situations usually ended with a goal, regardless of whether the Englishman played for Real Madrid, Manchester United or PSG.
This type of hallmark can be many things, such as for example for outstanding dribbling, speed, long-range shots, centering and many others.
If you are already following these tips but need some help, write us a private message on Facebook and we will do our best to help.
6) DEVELOP THE GAME WITH A WEAKER LEG!
One of the most important aspects thanks to which you can stand out and be remembered by a scout is the element of playing with both legs at a high level.
Even if today it seems unrealistic to you that you can improve your weaker leg to a good level, I can assure you that when you start training it, the effects will gradually appear and you will start to be at a much higher level than before!
Recently, the Nigerian side-defender FC Porto Zaidu Sanusi has attracted the attention of most of the best clubs in Europe.
As you probably know, Zaidu in 2016, at his own expense, without any help, risking his life, reached Portugal to make his football dreams come true.
Nobody knew him, so he went to clubs and asked for a chance, despite many situations in which he was rejected, Sanusi did not give up.
On one occasion he was allowed to train for free in reserves at the Gil Vicente club.
Every day Zaidu trained many hours individually so that someone would notice him and give him a chance.
As you can see, it was paying off!
You can do that too!
The only question is whether you are ready to train for a few hours every day!