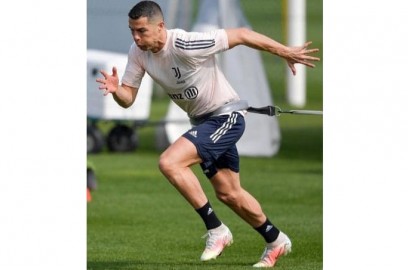 In today's article we want to touch on a very important problem that concerns players who aspire to play at a professional level.
Well, many of you turn to us with a request for help because it very often happens that after reading an article on our portal or other motivational content, you have a great will, determination and self-confidence, but after time the level of motivation drops and you stop having a hard time to work and give up overwhelmed by difficulties.
WHAT CAN YOU DO TO KEEP A HIGH LEVEL OF MOTIVATION FOR WORK AND DEVELOPMENT?
1) YOU HAVE TO SEE ALL THE TIME, SOMETHING REMINDERS TO THE GOAL YOU WANT TO ACHIEVE.
You need to clearly define your soccer goal.
For example, if you want to play for Real Madrid or the national team, stick the poster of this team in a visible place and write underneath in 5 years I will play in this club.
When you see it every day, your mind will subconsciously direct you to actions that may lead you to that goal.
2) BELIEVE IN YOURSELF
The key to achieving any goal is that you must first deeply and truly believe that your goal is achievable.
For this purpose, it is worth applying affirmation every morning in the morning.
Affirmation is an activity that consists in regularly repeating to yourself in front of a mirror positive goals and sentences to convince you that something is possible.
This activity may seem strange to you, but it has been proven on the basis of many years of research that after about 21 days every affirmation that is expressed with faith and enthusiasm is recognized as the mind as a real thing.
We recommend trying it out.
3 ) NOTICE YOUR PROGRESS
A very important element is noticing even the smallest progress and development.
It is worthwhile to experience even the smallest progress and enjoy it.
This attitude will make you believe that your training makes sense and will keep your motivation high.
So that you can see your progress, it is worth recording every training and match and adding a video to the portal.
In this way, you will not only share your skills with scouts from management agencies and clubs around the world and give yourself a chance to promote yourself to a good club, but also by watching and analyzing these videos yourself, you will be able to see both the progress and the mistakes that are worth eliminating. .
4) REWARD YOURSELF
A very important element is to give yourself a small reward for a job well done in order to increase your motivation.
For example, you played a good match, did a good training, you were consistent and, for example, you trained for a month every day both in the club and individually, give yourself a small prize.
What could this prize be?
Absolutely anything you like: A meal you like, a good dessert, anything that gives you joy.
Remember that when we talk about the award, we do not mean stimulants and things that may have a negative effect on the athlete's body.
5 ) DO NOT COMPARE WITH OTHERS
Remember that the only person you can compare yourself to is yourself.
If you start comparing yourself to others, it will usually only lead you to frustration, anger, and a loss of motivation and loos time.
Remember that everyone, regardless of where they live, how much money they have, what support and conditions to development they have, must face their difficulties.
Assessing others and comparing ourselves with them, we have no idea what they have to face and fight for their success, so focus only on your own development and use your time well without wasting it on comparisons.
There are probably many other ways to stay motivated, however, we provide you with the above 5.
We can guarantee that if you fully apply them all and regularly read and analyze the articles posted on the FTT portal, the motivation for development will cease to be a problem for you and you will achieve a lot soon!
If you have any questions about posting a video on the portal and promoting yourself, training, or what to do to show your skills to management agencies and clubs around the world, etc., write us a private message on Facebook and we will do our best to help .