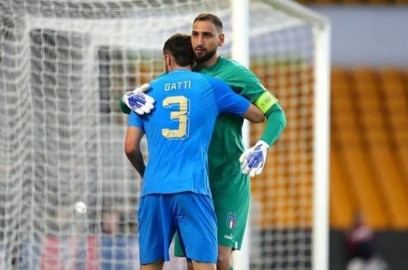 If it's Monday, you are probably waiting for a motivational FTT article to give you some confidence in your own abilities and that anything is possible.
Today you will not be disappointed, because we will present you a story that will prove to you that if you believe in yourself and do your best to develop, working hard every day, nothing is impossible!
Federico Gatti, because we will be talking about him, is another example that determination and hard work are something that can lead you to the top.
Gatti is a footballer who for start played for AC Torino's academy.
There was one of the thousands of talented juniors in Italy.
However, no one has ever called him a great talent that will surely become a professional.
Therefore, after playing in the youth teams, he was not offered a professional contract in Torino.
However, Fede was very determined and told his parents that no matter in which country he would play on a professional level.
He kept repeating that he would train, play and look for professional orettes until he was successful.
After leaving Torino, he didn't have offers from professional clubs for a long time, so he joined the amateur team of Alessandria.
In the meantime, he decided not to go to university and started working as a builder
He got up at 4 in the morning and went to work to be able to come back at 2 p.m. and go to training.
First, he trained at the club and then individually.
By working and developing step by step, he developed his career from the 7th league.
There were clubs of the 6th and 5th league on the way and finally, after 4 years, he signed his first professional contract with the Verbania club.
Seeing that his patience and determination were effective, Fede did not give up!
In 2021, he signed a contract with the Serie B Frosinone club and immediately became the league's best defender in the first season, and was bought by Juventus after the season!
Do you think that's all?
That Fede, who worked on the construction site 5 years ago, will not do anything else?
You're wrong!
This boy played for the Italian national team on June 11, 2022!
I'm sure this is not the end of the achievements and this player will not let himself be forgotten!
You think it's easy and you will achieve it too?
You are wrong, it is not easy, and probably only a small fraction of the hundreds of thousands who read this will be inspired and start working and believing in themselves enough not to give up.
However, if all our motivational texts make at least one of you successful in professional football, it means that our work was not wasted and it was worth working for you!
Who will be the one who will be successful?
It depends only on you and your work in training!
If you've already started, never give up!
If the article is valuable, share, leave a like or a heart and write something in the comment so that we know that you exist!