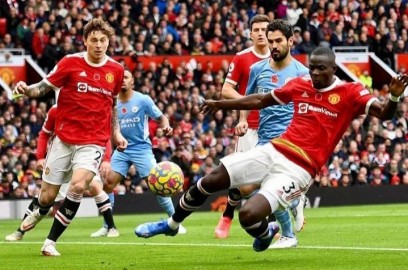 In the next part of the #MOTIVATIONMONDAY series, we would like to present to you the stories of Eric Bailly, a player of the Ivory Coast national team and Manchester United.
Eric Bailly is an example that shows how much can be achieved when a person believes in himself, works incredibly hard and is not afraid to take risks.
Eric at the age of 13 decided that he would quit school and sacrifice everything to become a professional footballer.
At first, the parents did not agree that Eric would stop attending school, but after some time they accepted
In the morning Bailly trained every day at the local academy with the team, then returned home for a while to rest and then went to the streets and sold used phones and cigarettes.
In the evening he took the ball and trained individually or played with friends in the street
He was incredibly determined to grow and after three years his first chance came as he was invited to a tournament in Burkina Faso where there were scouts from many European countries.
Even though Eric knew that this tournament did not guarantee him anything, he was convinced that he just had to be the best there so as not to waste his chance!
After the tournament, Eric was moderately satisfied and trained hard and waited for someone from the European clubs to contact to him.
After a month of waiting, his academy coach will appear to tell Eric and his family that Espanyol Barcelona is inviting him for 3 months of testing.
When the player reached Spain, Espanyol offered him a contract after a month.
Eric was incredibly lucky because his dreams really did come true and the risks and years of hard work began to pay off!
As it turned out later, it was a breakthrough moment for him because 5 years later he was already a player of one of the best clubs in the world, Manchester United
Not everyone can be like Eric Bailly because not everyone is ready for such hard work, but if you feel that football is your chance and you are ready to do anything to become a professional, then work hard every day, develop yourself, take risks and never give up and I'm sure you will do it!
If you need advice on football development and you want scouts from all over the world to follow you regularly, register on the portal and add video from matches or training to show your skills as well as use daily articles on the portal that will help you develop in every aspect.
If you found the article valuable, please leave a like and share it as it is very important to us.
Write in the comment how many times a week you train and write why you think you have a chance to be like Eric Bailly