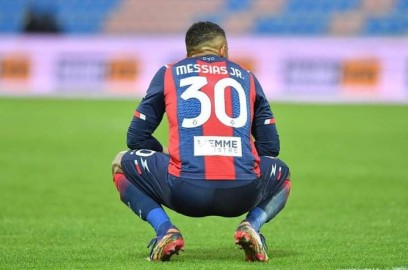 The biggest mistake of novice players is that at the very beginning they focus only on money and it is their only motivation.
They forget that when they were kids they used to go out on the pitch to play with their friends for hours just because they loved soccer the most in the world and it was the best fun in the world for them!
After some time, many of you lost the will to train, play for fun, because you started treating football as a way to earn money.
When the money was not coming in your minds, anger and frustration arose which resulted in a lack of willingness to play, develop football skills and train daily.
The key to each training bringing you skill development is full commitment, concentration, hard work, but also fun and the joy of the process!
Otherwise, you will get discouraged very quickly and give up your dreams of a career as a professional footballer.
A good example of how important the element of enjoying the ball is is the brazilian player Junior Messias.
.This player has played for FC Crotone so far and it was already a great success for him, probably at the end of the transfer window he will move to AC Milan!
Junior, however, is special.
Until the age of 20, he played only in amateur teams, and in his childhood he learned to play football in Brazilian streets, living in great poverty.
He believed that he would succeed, so he just tried everything at the age of 20, he went to Italy to find a job there and try to develop his career from the lowest leagues.
He found a job and then trained individually, played and trained in an amateur club.
he took part in all tests that gave him a chance to get into the league, even semi professional one.
Even when he failed, he was still happy because every opportunity to play football made him happy.
His joy in the game was evident on the pitch because he was never stressed, he always enjoyed the game, he dribbled amazingly and gave his all.
Only after 4 years of attempts did he get the chance to play in Serie D, i.e. on the 4th level of the competition.
Then after a while he joined Serie C and at the age of 29 he played at the highest level in Italy and was one of the best on his team.
This season, he scored 8 goals and had 4 assists.
For me, this story is amazing because it shows that absolutely anything is possible if you work hard, you believe in yourself and don't be driven only by money.
So if you love soccer just give it a try.
Start training 100% every day, play whenever possible and just take advantage of every opportunity to show your skills to the world!
Remember that you can also have a lot of fun!
Junior, who was an amateur until the age of 20 and trained on the street, will play for AC Milan in a club that many of you are even afraid to dream about!
Do you still think that making a career from scratch is impossible?
Register on the portal, train and add your videos from matches and training.
Every day you will be watched by the agency and clubs!
The more videos you add, the greater the chance!
If you need help with individual training or you want to promote yourself better, write us a private message on Facebook and we will help you