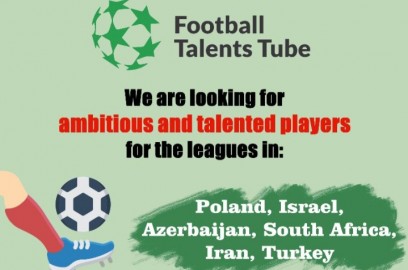 Our portal is constantly developing and I am establishing cooperation with new managerial agencies and clubs.
As the transfer period is already in full swing and most clubs around the world are looking to strengthen their squads every day, we get plenty for player offers for every position.
At the moment, the most players are needed for leagues:
Poland
Israeli
Azerbaijan
Iran
Turkey
South Africa
The above leagues are fully professional so we are looking for really skilled players who are in very good shape right now.
It is very important that the player has several years of experience in professional leagues.
In addition, two very important elements are the current profiles on the transfermarkt portal and FootballTalentsTube.com
including current videos from matches and training sessions.
If you would like to show us your skills and take advantage of this opportunity, please contact us via our Facebook page by sending us links to your transfermarkt and FootballTalentsTube profiles in a private message.
If the player, after sending the profiles, arouses our interest, the portal employees will contact him within a few days and we will arrange the details, and as soon as he gives us a mandate to represent him, he are guaranteed that we will help him in everything while working on the transfer.
Remember that if you do not meet the requirements of this offer at the moment, there is nothing to prevent us from helping you in the future!
However, you need to start working hard today to grow!
You don't have an account on our portal?
Register now and add videos of your daily individual and club training sessions and matches every day!
Your soccer skills are too low?
Start training harder and smarter every day!
You don't currently have a club?
First, join a team from a lower league and advance to the better and better ones step by step!
If you know someone who could meet the terms of the offer?
Share the post and help him, and maybe someone will help you in the future!