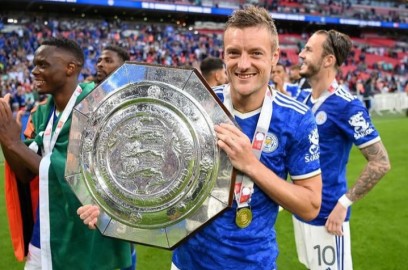 Yesterday Jamie Vardy celebrated his 35th birthday, one of the best strikers in the Premier League of the last decade.
Although we have already mentioned him on the portal, I think it is worth remembering his story because it shows that if you build high skills, sometimes one chance to show yourself is enough to rise to an amazing level.
It's 23 January 2010 FC United of Manchester are coming to match see Stockbridge at Level 9 in the English league.
761 people watch the duel live, which ended with the result 1: 1. Among them is a scout from club Derby County who states that none of the players are suitable for serious football. Disgusted with the level, he leaves the stadium before the final whistle.
Stockbridge is a team of an inconspicuous 23-year-old amateur footballer named Jamie. Jamie returns home quickly after the game and gathers strength for the next day, because the next morning he starts a 12-hour shift at a medical rails and crutches factory. The boy still dreams of being noticed by teams from the top leagues someday, but even his teammates and family say that 23 years is too late to start his professional career.
As it turns out, after half a year, Jamie's colleagues from the Stockbridge team, the family but and the scout from Derby County were wrong.
Half a year later, Vardy joins the Halifax Town team, where he immediately becomes the star of the team. After two years, he is already playing in the Championship, i.e. at the second level of games in England, where he scores goals against, among others, Derby County. Some "experts" say that we are dealing with a "one-season star" who will quickly return to his place in the hierarchy.
Six years after this memorable League 9 game, Jamie Vardy leads Leicester to victory in the Premier League Much to the surprise of the experts. In the 2019/20 season, he scored 23 goals, winning the crown of the Premier League's top scorer. At the moment, with 127 goals, he is ranked 14th in the ranking of the best snipers in the history of the Premier League!
The story sounds like a movie but it happened in the real world!
Let Vardy's biography become an example for all of you!
No matter what everyone else says!
If you have your goal, just go and do it !
Work hard every day with self-confidence because you never know when an opportunity may come that will change your life and what seemed unreal will become reality!
Thank you and we are extremely grateful for every share, like and comment.
In this way, each of you is the co-creators of the portal and its user at the same time!
It is mainly thanks to the most active users that the portal is developing so fast and can support talented footballers more and more!
Text source: mistrzowiepolski Instagram