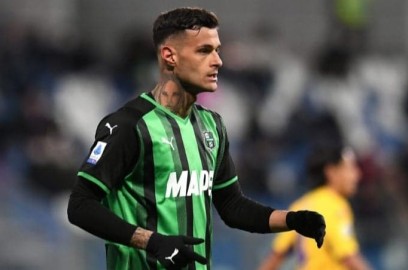 If you are looking for motivation to finally start fighting for your career and believe in yourself one hundred percent, you should look for inspiration in the story that we will present to you below!
Gianluca Scamacca is one of the best attackers of the younger generation in Italy today.
Last season, Serie A scored 16 goals for Sassuolo.
When he was asked in one of the last interviews, why is he so successful?
He replied that it was all due to the difficulties and obstacles he had to overcome in his life!
He added that if he had everything he needed from the very beginning, he would never want to train so hard and his style of play, which is based on bravery and unusual plays, would be completely different!
Looking at Gianluca you can see at first glance that he is a character footballer.
Scamecca had to fight for everything from an early age!
The Italian striker was born and raised in the suburbs of Rome in the Fidene district, where poverty, drugs and violence were everyday life!
The Scamacca family was poor because my mother was pacing like a hairdresser and father was a driver.
When Gianluca's mother lost her job, the family had to move to a council flat where most of the time there was no electricity or water, and father's salary was usually not enough for a whole month and Scamacca had to starve.
As he himself says that he was hungry, his family lived in poverty and his mother cried for this reason, it was the best motivation for him to train and develop!
Due to these difficulties, he trained so hard every day that he sometimes vomited to get a contract that would give his family a decent life as soon as possible!
Today he says that it was God who sent him these difficulties to motivate him to develop!
Have you ever considered your difficulties and failures as a gift to help you become great?
If not, think about it!
Remember that no one but you will change your fate!
It all depends only on you and your way of thinking!
Share leave a like and comment if you want more articles of this type to appear on the portal!